My Central Europe Travel
Italy, Switzerland, Germany, Belgium, France
Day 6: Lucerne (11 Dec 2015)
Starred the day in Lucerne.
Breakfast at Hotel Restaurant Postillon Buochs -LU-.

After breakfast, heading to Mt Titlis


Titlis is a mountain of the Uri Alps, located on the border between the cantons of Obwalden and Berne. The Titlis, Engelberg's 'house mountain', and its glacier park are accessible by revolving rotair cableway.


We made our way towards the cableway.
An awesome 360-degree panoramic view while driving up.


At an altitude of 3020 metres above sea level visitors are treated to a fabulous view of the central Alps.


Just as we reached the top, there are 4 story building, in which level 1; a souvenir shop and ice-cave. Level 2 is a restaurant, and the highest bar in Europe. Level 3 was a watch shop and level is where you walk out onto the top of the mountain.


Permanent ice and snow at the top of the world and a revolving gondola lift to take you to the top of the mountain.

The Titlis Cliff Walk, the highest elevation suspension bridge in Europe, opened in December 2012, giving views across the Alps.
Subsequently, we've heading to the level of ICE Cave but nothing special there.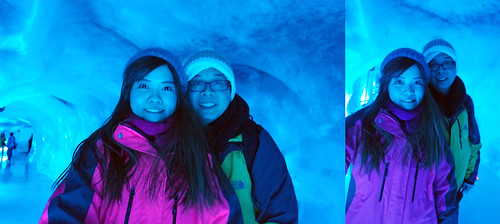 Next, Lunch at Level 2


After Lunch, continue our journey to the Lucerne city. In brief, Lucerne, a compact city in central Switzerland, sits amid snowcapped mountains on the north end of Lake Lucerne.
Next stop, The Lion Monument.


The Lion Monument, or the Lion of Lucerne, is a rock relief in Lucerne, Switzerland, designed by Bertel Thorvaldsen and hewn in 1820–21 by Lukas Ahorn.It was designed as a memorial for the mercenary soldiers from central Switzerland who lost their lives while serving the French king Louis XVI during the French Revolution.
Next, visit Chapel Bridge, the Landmark 1300s wooden bridge with grand stone water tower & a roof decorated with 17th-century art.


The bridge is famed as an architectural masterpiece, because of its wood construction and iconic covered style. It is the oldest covered bridge in Europe, dating back to the 14th century.

The bridge leads to the Water Tower, an octagonal structure that had many uses throughout time, serving as a torture chamber and prison for centuries. Today, it is considered to be the symbol of Lucerne and houses a small gift shop.
Shopping, free and easy time.


Tea break after shopping.


Last, went to a supper market to buy some bread, tidbits and beverages.


End of Day 6
The Links
ShawnLiv Central Europe Travel – Day 1 & 2
ShawnLiv Central Europe Travel – Day 3
ShawnLiv Central Europe Travel – Day 4
ShawnLiv Central Europe Travel – Day 5
ShawnLiv Central Europe Travel – Day 6
ShawnLiv Central Europe Travel – Day 7
ShawnLiv Central Europe Travel – Day 8
ShawnLiv Central Europe Travel – Day 9
ShawnLiv Central Europe Travel – Day 10
ShawnLiv Central Europe Travel – Day 11 & 12
Please follow and like us: